Active Schools – It's Epic to be Energetic
PHYSICAL EDUCATION
This year our school decided to develop the PE strand of Dance. All classes were treated to five weeks of Irish Dancing with Catherine Power Ronan from Power School of Irish Dancing and five weeks of Modern Dance with Becci Whelan from 2 Many Dance Moves.
Power School of Irish Dancing:
2 Many Dance Moves:
Christmas Dance Collaboration:
Incorporating Dance into the festive season the Senior Classes teamed up with the Junior Classes to teach them a Christmas Dance.
Junior Infants & 3rd :
Senior Infants & 4th:
1st & 5th:
2nd & 6th:
Funky Kids:
The boys and girls of 3rd and 4th class were very lucky this year to have the opportunity to perform a concert in Campile Parish Hall. All the children loved learning new songs and dances for the performance. The three classes performed many well known hits to a packed hall. We'd like to thank Denis and Olivia from Funky Kids for all their hard work during the 10 weeks.
P.E. Strands:
Swimming:
The pupils of 4th & 6th benefitted from a swimming programme run over 7 weeks in Term 1 and Term 2 in The Apex Swimming Pool, New Ross.
Athletics:
All classes  have been busy developing their Athletics skills. We hope these skills will stand to all the children who take part in the Rural Sports Competition.
After six weeks of practicing Sprint and Standing starts, Hurdles, Relay Racing, Long Jump, Javelin, Hammer and Discus Throwing 3rd class visited Pearse Park in New Ross to use the running track and outdoor exercise machines.
Gymnastics:
First class showing off some Hula Hoop skills during a gymnastics lesson.
6th class trying some floor routines.
Orienteering:
1st and 2nd Class took advantage of the dry weather in April to practice their orienteering skills.
In February 6th class travelled to Woodstock Gardens, Kilkenny to compete in the 6th Class Orienteering Competition.
Well Done to Sally and Emily who came 1st and 2nd in their Orienteering Competition.
5th Class competed in an orienteering competition in our local Kennedy Park in Novemeber. They had great fun and thoroughly enjoyed the event.
Games:
Embracing the Six Nations.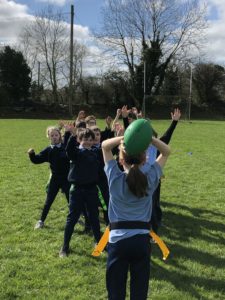 5th and 6th battling it out for bragging rights during a Dodgeball Showdown.
Kicking and Catching practice with a game of No Man's Land.
Preparing for Wimbeldon 2019.
Move Well! Move Often!
Ms Cosgrove and Ms Radford attended a Move Well! Move Often! training day. This was then implemented into P.E. Lessons to develop children's fundamental movement skill.
PHYSICAL ACTIVITY
Active Walkway:
Scoil Mhuire opened its Active Walkway in May 2019. The Walkway is 150 m with exercise breaks every 25m. Classes can use the Walkway as a Movement Break or at Lunchtime.
Playground Zones:
In Term 2 our Active Zones  were set up. Playground leaders were selected from 5th and 6th to operate these zones.
In the Senior Yard a Target Zone and Skipping Zone is in operation.
Playground Leaders Conor and Robert.
Junior Yard Zone is a movement and target zone.
Funky Friday:
Every Friday part of our yard becomes a Dance Zone where children from the Senior and Junior Yards come together to show off their dance moves.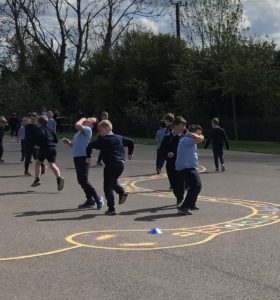 Active Lines:
Since March we have been running Active Lines. Weekly winners get to choose one day to substitute active homework for written homework.
Movement Breaks:
In November and December we ran an Active Breaks Competition. We challenged each class to take a running, exercise and dance break each day. Ms Warner's 1st class were the overall winners.  The Movement Breaks proved such a success that as a staff we agreed to use them after break and lunch on rainy days.
Run Around Europe:
In September and October the whole school took on the Tour of Europe Challenge (a four week running initiative), which saw us running to various landmarks in Europe. One lap of the basketball court was our school kilometre. Classes became very competitive with one another with Ms O'Connor's 3rd Class being named overall winners.
Lunchtime Leagues:
At lunchtime boys and girls in the Senior classes can take part in Football, Hurling, Camogie or Soccer training. Throughout the year we run lunchtime leagues in these sports.
PARTNERSHIPS
Active School Committee:
Our Active School Committee was set up in November 2018.
Front: Dale, Eliza, Ben, Caoimhe, Darragh.
Back: Sarah, Aine, Conor, Cathal, Sean Óg
Active School Slogan:
The Active School Committee asked all children from 1st class to 6th class to come up with a school slogan for our Active School. Congratulations to Harry who came up with the winning slogan – It's Epic to be Energetic. We had some great entries which made the job of choosing the winning slogan very difficult for the Active School Committee.
In Partnership with the Local Community:
Road Safety Cycling Initiative: The 6th Class completed a 5 week training programme designed to give young people the knowledge and skills to be a safe cyclist. 4 weeks of the programme took place on school grounds. The final week saw 6th Class test their new skills and knowledge in New Ross.
GAA: Scoil Mhuire undertook a 6 week GAA Football and Movement Skills programme. Classes from Infants to 5th took part in the GAA Initiative.
Leinster Rugby: Brendan Holohan from Leinster Rugby Club ran a 6 week tag-rugby training programme with 5th and 6th Class in Term 2.
Hurling 365 Programme: a school and Club link. The school is delighted to have such great support form Horeswood GAA Club. We are also lucky to have such a dedicated team of teachers and volunteers who help out with the programme in the school.

ACTIVE SCHOOL WEEK 18th – 22nd June 2018
We had a very busy Active Week in Scoil Mhuire to kick start our Active School process.
Monday 18th:
We were delighted to welcome Catherine Power Ronan from Power School of Irish Dancing and Simon Cummins from Campile Soccer Club.
Classes from Junior Infants to 2nd were treated to a taster session of Irish Dancing.
3rd to 6th learned some new ball skills.
Tuesday 19th:
Junior Infants to 2nd Class had a great Sports Day.  Scoil Mhuire would like to thank all the parents who kindly offered their time to ensure a great day was had by all.
Senior Classes took part in Accessible Games to help them appreciate the challenges faced by people with disabilities when playing sport.
Sit-Down Volleyball:
Sit-Down Table Tennis:
Sit-Down Basketball:
Wednesday 20th:
6th Class Vs The Teachers:  Ten 6th class took on ten teachers in a highly competitive rounders match. Cheered on by all the boys and girls of Scoil Mhuire the 6th class narrowly defeated the teachers. Well Done 6th!
The Annual School Walk was a very enjoyable event on Wednesday evening. We had a great turn out. A big thank you to all the staff and parents involved in organising the event.
Thursday 21st:
Senior Sports day was a great success. Thanks to all the parents and local clubs who got involved.

Friday 22nd:
We had great fun with some Carnival and Giant Garden Games.
COMPETITIONS
National Fitness Day Take on the Teachers Challenge (September 2018):
The boys and girls of 6th Class challenged the Teachers to a Tug of War Match. The whole school turned up to cheer on the Tug of War Teams and there were some surprising results.
Well Done! to all who took part.
Soccer Blitz:
6th Class took part in a FAI 5-a-side Soccer Blitz in New Ross making it through to the semi-finals.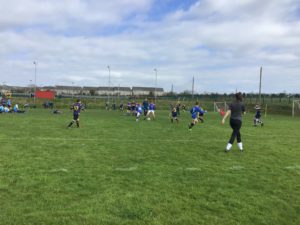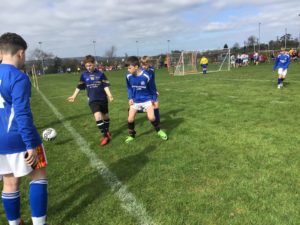 Rugby Blitz: 6th Class took part in Rugby Tournaments in September 2018 and May 2019
Twilight Dance Convention and Competition: Well Done to Jessie, Ciara, Ava and the other members of 2Many Dance Moves who competed in Individual and Group Dances in Limerick.
Rural Sports: Well done to all the boys and girls from Scoil Mhuire who competed in the Rural Sports Competition 2019 in Enniscorthy.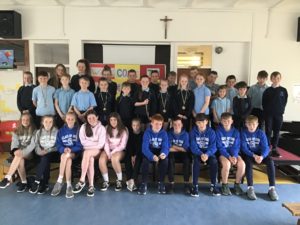 Cross Curricular
Art, Science and Physical Activity:
The 1st class boys and girls went on a Nature Walk around Kennedy Park. They studied the local flora and fauna, made wonderful mandalas with natural materials, learned about the red squirrel and had time to visit the playground.
Literacy and P.E.:
The 3rd class attended an Irish Folklore workshop run by Wayne O'Connor in New Ross Library, they then went to Pearse Park to practice some Athletics and use the park equipment.
Science and P.E:
The 4th class went to Kennedy Park to learn about the seasonal changes occurring in the park.
History, Geography and P.E.:
Ms Warner's class visited the Mythological Garden in New Ross where they learned about some of our Irish Folklore. Afterwards they mapped their journey from the Mythological Gardens to Pearse Park.
The School Garden:
This year 1st and 4th class are in charge of the school garden. After preparing the soil, they planted a wide range of fruit and vegetables. Every week they tend to the garden and are looking forward to a bountiful harvest.
Visiting Sports 

Stars
Mikie Rowe:
Mikie came back to Scoil Mhuire for a visit after recently signing to Tormenta F.C. in Georgia.  Mikie gave the boys and girls of Scoil Mhuire an inspirational speech about working hard, following dreams and highlighted the importance of education.
Joanne Dillon:
The Camogie Team got a surprise visit from Wexford's Joanne Dillon during a training session. Joanne gave the girls some tips and advice for the upcoming Camogie season.
Leinster Silverware:
Brendan Holohan, Leinster Rugby, brought the European Championship Cup and Pro 14 Trophy to Scoil Mhuire. Children and staff were delighted to pose with the Silverware.