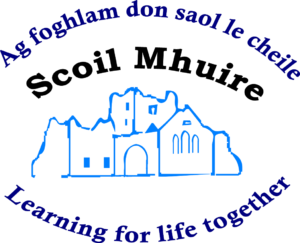 Scoil Mhuire is a Catholic school under the Patronage of the Catholic Bishop of Ferns. Scoil Mhuire is situated in the townsland of Ballinamona, Campile, Co. Wexford, on the New Ross – Campile road. It is a central school for the Parish of Sutton's, which is divided into Horeswood  and Ballykelly Curacies.
In 1979 four schools in the parish amalgamated into Scoil Mhuire. These four schools were Aclare NS, Ballykelly NS, Horeswood NS, and Killesk NS.
Scoil Mhuire has 11 mainstream teachers and four special education teachers. There are five SNA's in the school. We have a cleaner, caretaker and secretary. Our Location: 
---
Summer
Holidays
Today brings to a close, what has been a very surreal year in terms of our school. We eagerly await a decision around the full return to school in September. Hopefully we will welcome all pupils back to school on August 27th. School may be somewhat different next year but we will do our best to keep everyone safe.
Details of our Return to School protocol will be available on the school website in mid- August.
Please find a link to a copy of our school calendar for 2020/2021 here:  School Calendar 2021
I would like to take this opportunity to thank all our families for their tremendous work over the past number of months.
I wish you all an enjoyable summer and look forward to seeing you soon
Brian Flood
(Principal)
---
Green Schools Week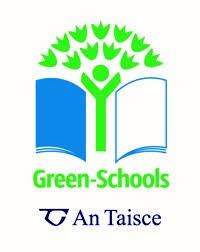 Please take a moment to look at some of the amazing work completed by our pupils during our Green Schools Week
---
Horeswood Parish
Mass is now available on the Horeswood Parish website through the webcam.
---
Draft Admissions Policy
Dear Parent/Guardian,
Under the Education (Admission to Schools) Act 2018 every school in the country is required to have in place an Admission Policy. This policy must be sent to the school patron, in our case the Bishop of Ferns, by April 30th of this school year for their approval.
In formulating the admission policy the board of management is required to consult with parents, as well as school staff, for their feedback. To this effect please find below a link to a draft policy for our school. If you would like to give some feedback please email it to horeswoodprincipal@gmail.com
Admission Policy Draft Scoil Mhuire
Brian Flood (Príomhoide)
---
Easter Holidays
A Chairde,
During the Easter period I would like to encourage all pupils to take a deserved break. Help out around the house, play outside during the fine days and draw, build Lego or write a letter to your friends. This is a very challenging time for everyone and we thank all families for their engagement with the school during this uncertain period. No work will be allocated to pupils during the Easter period.
Many thanks to parents who have submitted work to teachers to date. School work is insignificant really once our families are healthy and happy. Do what you can. That's simply all we ask. Take care of yourselves and those around you. Happy Easter to our school community.
Brian Flood (Principal)
"Do not abandon yourselves to despair. We are the Easter people and hallelujah is our song." – Pope John Paul II
---
Pupil Wellbeing
During these difficult times I'm sure we are all concerned about the wellbeing of all children. Parents are asked to please look at some of the useful information in the links below which has been given to us by the National Educational Psychology Service (NEPS) as a support for families during this period.
https://www.education.ie/en/The-Department/Announcements/information-for-schools-preschools-and-third-level-institutions-on-the-coronavirus.html#15
https://www.barnardos.ie/how-you-can-help/fundraising/covid-19-crisis-appeal-for-children/support-for-parents-during-covid-19-crisis
---
​School

Contact
During this school closure period the school can be contacted by email at the following email addresses;
Office: horeswoodns@gmail.com
Príomhoide: horeswoodprincipal@gmail.com
Please follow this link for email contact details for all teachers: Teacher Email Contact Details
---
School Transport
Applications for school transport  for the 2020/2021 school year are now open at http://www.buseireann.ie/schooltransport
---
COVID-19
School Closures
The school will be closed from Friday, March 13th until Sunday, March 29th. This closure is due to the guidance we have received from the Department of Education and Skills and the Chief Medical Officer.
Update- March 24th
The school has received an update from the Department of Education and Skills. We have been informed that schools will remain closed until April 19th 2020. A contact email for teachers and additional work will be distributed shortly.
Update- April 10th
Schools will remain closed until further notice
---
Work for pupils during school Closure:
Work for pupils has been uploaded on the website under the "School Work" tab on the menu at the top of this page. 
The school work for all our pupils is available at the link below
http://scoilmhuirecampile.com/?page_id=681 
---
Advice for Parents
Parents will be kept updated by text-a-parent and also through our website and Twitter page.
http://www.education.ie/covid19
https://www.education.ie/en/Press-Events/Press-Releases/2020-press-releases/PR20-03-24.html
Please follow this link for COVID-19 advice in other languages https://www.hse.ie/eng/services/news/newsfeatures/covid19-updates/partner-resources/covid-19-translated-resources/
---
Message from Horeswood Parish
Dear Parishioners, in order to follow and adhere to Govt norms I have reluctantly decided to suspend all public Masses in Horeswood and Ballykelly with immediate effect.
Fr Gerald O'Leary
---
School Lunches
Anyone interested in being added to the school lunch list during COVID-19 should contact Elaine, our school secretary at horeswoodns@gmail.com.
---
Active
School
Flag
We had a very special visitor to the school on Tuesday, February 11th  to raise our Active Schools Flag. Tadhg Furlong took time out from his busy Six Nations training schedule to do the honours of raising our flag. The Flag was received last year and a very special word of thanks is due to all of the members of the Active School Committee and to Ms. Warner and Ms O' Connor for their work. Well done everyone and thanks very much to Tadhg!
---
Green Schools Prize Winners
The winners of the Green Schools poster and slogan competition were presented with their prizes following Assembly in January. Well done!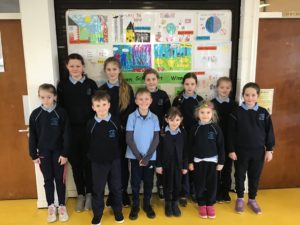 ---
Grandparents
Day 2020
On January 29th, third class pupils were delighted to welcome their grandparents to our school. They presented them with their own special poems and performed songs for them. All of the grandparents and the children had a really lovely day.
---
Mr. Flood's Trip to The Gambia in Africa
Our Principal, Mr. Flood visited The Gambia in Africa for ten days in January. Mr. Flood visited schools out there and supported teachers in their work. He also visited a school in Kasewa where our school has a link. Money was raised in Horeswood for the construction of the school and many in the local community contribute to the maintenance of the school today.
---
Enrolment September 2020/2021
Enrolment 2020/2021
Applications for enrolment are now being accepted for the 2020/2021 school year. Please contact the school office on 051-388255 or horeswoodns@gmail.com for an enrolment pack.
You can also call to the school to pick one up.
---
School Calendar 2019/2020
Please find our school calendar below. There will be a number of additional closures for in-service for teachers for the new Primary Language Curriculum. These additional dates have been added. Please disregard the old calendar.
Our
Staff
Members
Principal: Brian Flood
Junior Infants: Anna O'Hanlon        Third Class: Anne Lawlor
Senior Infants: Aisling Doyle            Fourth Class: Lenora Warner
First Class: Kathryn O' Hanlon          Fourth Class: Ann O' Dwyer
Second Class: Louise Cosgrove         Fifth Class: Ger Radford (Dep. Principal)
2nd and 3rd Class: E. O Connor 5th and 6thClass: Joe Mooney
Sixth Class: Darren Keating
SEN Teachers: Brid O' Brien, Emma Hennessy, Seán Stafford, Louise Collins/Fiona Phelan
SNA's: Kathleen Larkin, Marie Hart, Joan Knight, Susan Barry, Grace Phelan, Mairead Sinnott
Secretary: Elaine Keating
Caretaker: Philip Corish
Cleaner: Gillian Murphy
---
Keep up to date with whats happening in Scoil Mhuire, Horeswood by following the latest news on our Twitter page!!
https://twitter.com/scoilmhoreswood