Scoil Mhuire is a Catholic school under the Patronage of the Catholic Bishop of Ferns. Scoil Mhuire is situated in the townsland of Ballinamona, Campile, Co. Wexford, on the New Ross – Campile road. It is a central school for the Parish of Sutton's, which is divided into Horeswood  and Ballykelly Curacies.
In 1979 four schools in the parish amalgamated into Scoil Mhuire. These four schools were Aclare NS, Ballykelly NS, Horeswood NS, and Killesk NS.
Scoil Mhuire has 11 mainstream teachers and four special education teachers. There are five SNA's in the school. We have a cleaner, caretaker and secretary.
TV Stars in Senior Infants
As part of the JFK Summer School in New Ross our Senior Infant pupils were involved in an exciting session in New Ross Library with children's illustrator Lauren O'Neill. They were featured on RTÉ programme news2day.
https://www.rte.ie/player/series/news2day/SI0000001210?epguid=IH000369208
Welcome Junior Infants 2019
Retirement of
Mr. Seán Crowley
The pupils, parents and school community would like to wish Mr. Seán Crowley the very best in his retirement, following 39 years teaching in Scoil Mhuire. Mr. Crowley is pictured with his last class.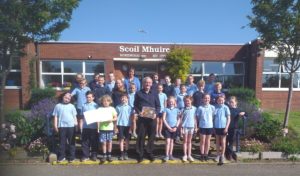 School Calendar 2019/2020
Please find our school calendar below. There will be a number of additional closures for in-service for teachers for the new Primary Language Curriculum. These additional dates have been added. Please disregard the old calendar.
Rackard
League
Well done to our Boys Rackard League team who got to the county semi-final of the Rackard League competition this year.
Funky Kids Concert
Third and fourth class took part in our Funky Kids concert in Campile Hall recently. Everyone had a fantastic night. Thanks to Denis and Olivia for their work with the children.
Grandparents

 
Day
– Catholic
Schools
Week
2019
Grandparents Day took place in Scoil Mhuire on Wednesday, January 30th. Third and Fourth Class hosted Grandparents Day in our school this year. The children took part in a prayer service to mark Catholic Schools Week which was led by Fr. O'Leary. They also performed songs and danced for the visiting grandparents. They acted out games from the past and they also presented their grandparents with a little gift. It was a lovely morning and we were delighted to welcome all  Grandparents to our school. Many thanks to Mr. Crowley and Kathleen for all their hard work in preparation for the day.
Rugby Cup Visits
Brendan Holohan from Leinster Rugby visited our school recently with the European Champions Cup and the PRO 14 silverware. Children in the school got to look at the trophies and Brendan told them all about them.
Many thanks to Leinster Rugby for arranging the visit.
School Calendar
– 2019/2020
school year
Please follow the link below to access the school calendar for this school year.
Our
Staff
Members
Principal: Brian Flood
Junior Infants: Anna O'Hanlon                                                      Third Class: Anne Lawlor
Senior Infants: Aisling Doyle                                                           Fourth Class: Lenora Warner
First Class: Kathryn O' Hanlon                                                         Fourth Class: Ann O' Dwyer
Second Class: Louise Cosgrove                                                          Fifth Class: Ger Radford (Dep. Principal)
Second and Third Class: Evelyn O'Connor                                  Fifth and Sixth Class: Joe Mooney
Sixth Class: Darren Keating
SEN Teachers: Brid O' Brien, Emma Hennessy, Seán Stafford, Louise Collins/Fiona Phelan
SNA's: Kathleen Larkin, Marie Hart, Joan Knight, Susan Barry, Grace Phelan, Mairead Sinnott
Secretary: Elaine Keating
Caretaker: Michael Halligan
Cleaner: Gillian Murphy
Keep up to date with whats happening in Scoil Mhuire, Horeswood by following the latest news on our Twitter page!!
https://twitter.com/scoilmhoreswood